Skip to Content
Fine Jewelry Repair in Palm Desert, CA
With our expertise in jewelry repair services, we are confident we will be able to repair your jewelry beautifully. Whether you are looking to reset a stone in your ring or fix the clasp on a bracelet, our trained jewelry professionals are sure to put a smile on your face. We know how important and sentimental that special piece of jewelry can be, which is why we take care to not only preserve the integrity of the piece you bring us but return its luster to brand new. Enjoy your precious piece for years to come. If you need repairs done to your jewelry, call us today to schedule an appointment.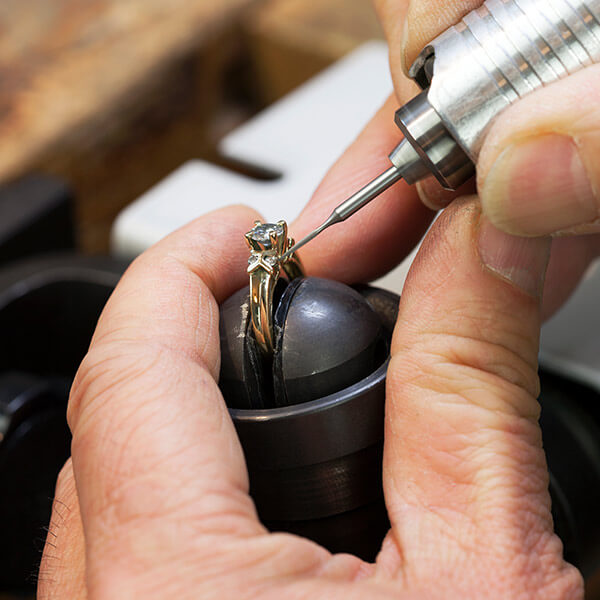 Years of Experience Repairing Watches and Rings Alike
Our expert repair technicians understand how meaningful your jewelry is to you. If you're bringing it in to be repaired, it must matter significantly. We go to great lengths to restore your heirloom to beautiful shining perfection. We are always adaptable, with years of experience, no piece is too complicated. We're committed to bringing the community of Palm Desert, CA meticulous and careful work to keep your jewelry beautiful. When you bring your watch, earrings, pendant, bracelet, or another piece of jewelry to be repaired to our fine artisans and craftsmen, you know you're getting great service from qualified technicians.
We Take Care of Your Jewelry Like You Do
Since 1975 we have been bringing excellent repair service to the communities of Palm Springs, Rancho Mirage, and Palm Desert. Our technicians are qualified to work on all watch brands including Rolex, Rado, Patek, Phillipe, Breitling, Omega, Longines, and more. We also work with diamonds, sapphires, rubies, emeralds, and most all gemstones, so you can trust that you're getting the best work done. Your precious fine jewelry is in good hands with people who care about repairing it to its original luster.
Jewelry Cleaning and Inspection
Over time our jewelry can get dull and dirty. They often require specific cleaning materials and chemicals to clean them. We at Robann's Jewelers can take care of that for you at our Palm Desert shop. Our team of knowledgeable experts can also perform inspection services on your prized pieces of jewelry. Stop in today!
Make a Defining Statement with Robann's Jewelers